Sam & Lisa-Laura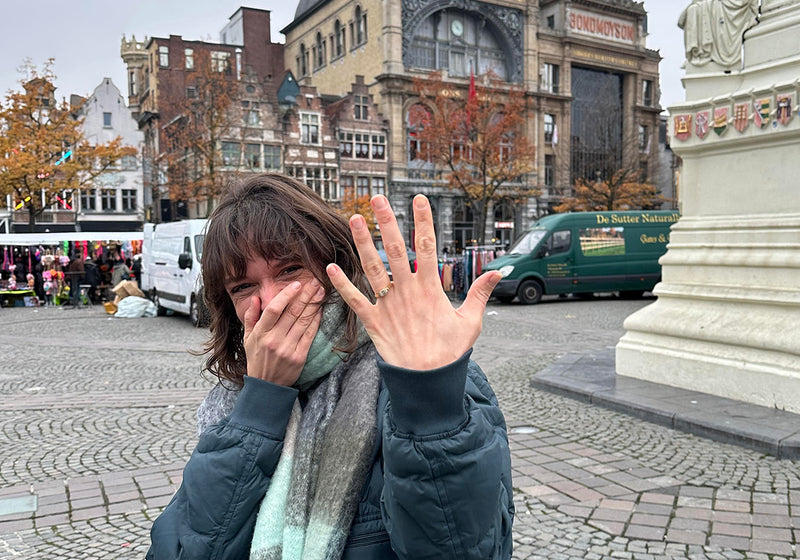 Congratulations to the rather fantastic Sam and Lisa-Laura, who got engaged just before Christmas in their favourite square, the beautiful Vrijdagsmarkt in Ghent, Belgium… 
Our first Lab Grown diamond setting! Sam approached us from London about an engagement ring for his partner Lisa-Laura, he was conscious of creating an environmentally friendly piece, that was timeless, modern and practical for his beautiful and active wahine.
⠀⠀⠀⠀⠀⠀⠀⠀⠀
We regularly work with recycled diamonds, which is a wonderful way of creating timeless ethical heir loom, but as he had his heart set on an Emerald-cut it was difficult to find a recycled diamond of the shape in the timeframe we had, and have been thinking and talking about working with lab grown diamonds for quite awhile… For Lisa-Laura's ring we worked with recycled 18-carat gold and this lovely emerald-cut diamond.
⠀⠀⠀⠀⠀⠀⠀⠀⠀
Sam is an architect and was drawn to this design for it simplicity and structure… Throughout the design process we discovered we had an architectural history in common, and he was familiar with my grandfather's work with the Group Architects, celebrating modernist architecture, which felt fitting for this piece.
Such a beautiful, thoughtful, romantic and super cute proposal! In Lisa-Laura's words;
⠀⠀⠀⠀⠀⠀⠀⠀⠀
"Sam had booked tickets to go see my family in Belgium before our trip to NZ, for a so-called early Christmas with my parents, brother and his partner. The two of us went for lunch that afternoon and the plan was to grab some belgian beers in our favourite pub - all located in our favourite square (the beautiful Vrijdagsmarkt in Ghent, pictured) where Sam ended up proposing! I was fully convinced we were going home to that Christmas dinner with my family after the proposal, but little did I know everyone was in on the plan and we came home to a surprise party with my entire family, all our belgian friends and even some of our friends from London that had come over. Such a special weekend."